The mathematics department is guided by the following objectives: (1) pre-professional training for mathematicians and teachers of mathematics; (2) preparation of students for further study of science, engineering, industry and business; (3) adequate mathematical training for students in occupationaltechnical programs; (4) mathematical offerings suitable for the student seeking a well-balanced, liberal education; and (5) provision for students seeking to remove deficiencies or desiring to refresh their knowledge from previous training. Students are responsible for checking the catalog of the senior college or university to which they plan to transfer to determine which of these courses are compatible with that institution's degree plan.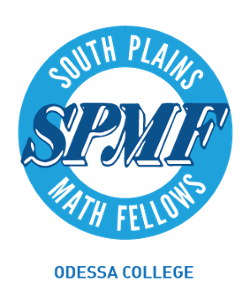 Are you a Math, Science or Engineering major looking for financial support? OC is a member of the SPMF program. Click here for details.
Links
Course of Study for Associate in Science Degree – Mathematics
Contact
Timothy Contreras
Mathematics and Engineering Department Chair
Office: Wood Building of Math & Science, Rm. 215
Phone: 432-335-6637
E-mail: tcontreras@odessa.edu
Lizbeth Bgarza
Mathematics/Engineering
Office: Wood Building of Math & Science, Rm. 224
Phone: 432-335-6406
E-mail: lbargaza@odessa.edu
Milagros Carrasco
Instructor Mathematics
Office: Wood 221
Phone: 432-335-6103
E-mail: mcarrasco@odessa.edu

Eng Hong Sin
Instructor Mathematics
Office: Wood 222
Phone: 432-335-6638
E-mail: esin@odessa.edu

Ernesto Daniel Calleros
Instructor Mathematics & Engineering
Office: Wood 223
Phone: 432-335-6634
E-mail: ecalleros@odessa.edu

Debra Ann Lackey
Instructor Mathematics & Engineering
Office: Wood 214
Phone: 432-335-6360
E-mail: dlackey@odessa.edu

Ariela Lange
Associate Professor/Developmental Mathematics
Office: Wood 225
Phone: 432-335-6799
E-mail: alange@odessa.edu

Nikki Dawn Handley
Instructor Developmental Mathematics
Office: Wood 230
Phone: 432-335-6751
E-mail: nhandley@odessa.edu

Uzair Muhammad
Instructor
Office: WOOD 227
Phone: 432-335-6635
E-mail: umuhammad@odessa.edu
William Vanderzyden
Instructor
Office: WOOD 226
Phone: 432-335-6418
E-mail: wvanderzyden@odessa.edu
Adjunct Instructors:
Mohamad Abdullah, Alfredo Bonilla, Michael Self, Danielle Jones, Sandra Kerr, Tamara Eve, Elda Baeza, Karime Melendez, Krista Vivian, Deanna Martinez, Cassie Anderson, Debra Hammond.